This collection of keto lemon recipes will bring you the taste of Spring during any season.   A collection of main dishes, sides, salads and desserts you could plan a whole meal with the zing of lemon!
Lemon is a refreshing and versatile ingredient that can be used in a variety of low-carb recipes. For example, lemon can be used to add flavor to chicken or fish dishes, or as a base for salad dressings and sauces. Lemon can also be incorporated into low-carb desserts, such as cheesecake or lemon bars, using low carb sweeteners. Additionally, adding lemon to water or tea can provide a flavorful and low-carb alternative to sugary drinks. With its zesty taste and low-carb profile, lemon is a great ingredient for anyone looking to create delicious and healthy meals.
Jump to:
Keto Appetizers with Lemon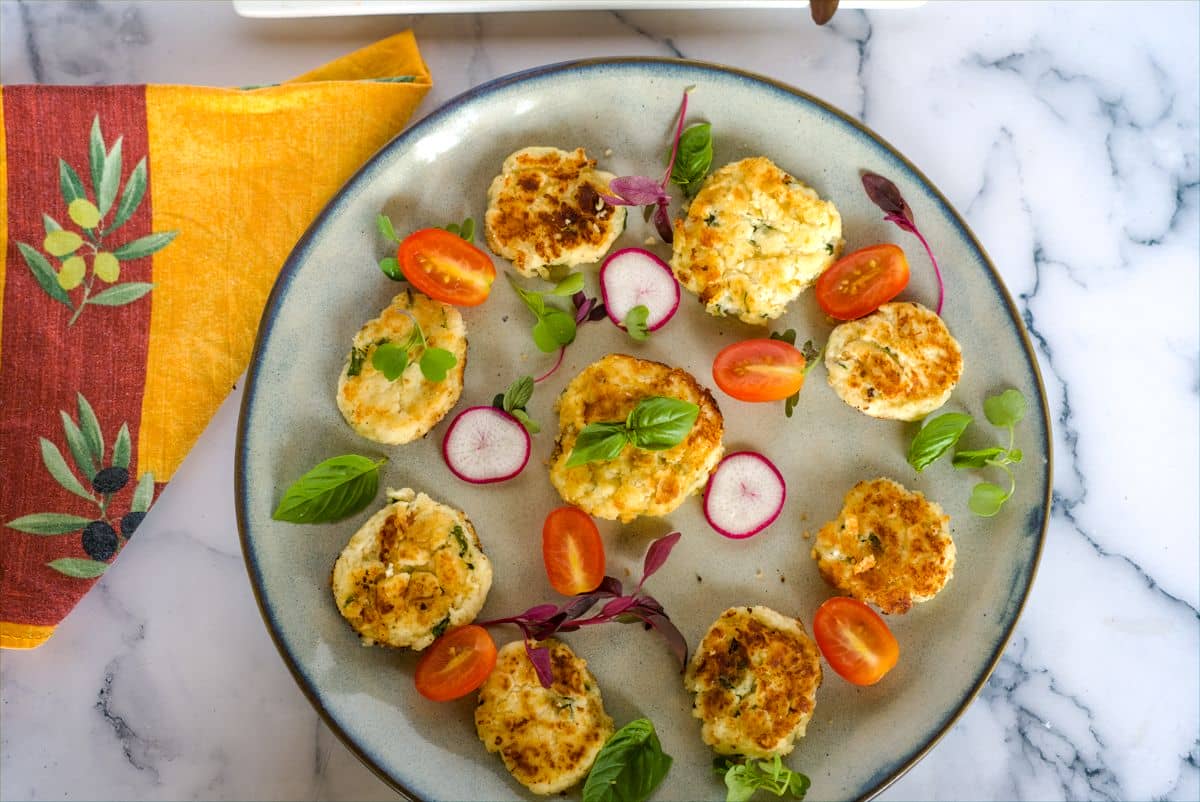 Ricotta Fritters - Keto & Low Carb Vegetarian Recipes
Easy keto ricotta fritters are flavoured with lemon & basil for a light lunch for summer. Enjoy by themselves or serve with a dipping sauce.
Get The Recipe
Keto Broccoli Feta Fritters
Easy and tasty low carb broccoli fritters with Feta cheese and lemon are a great appetizer or light lunch. Made with coconut flour they are also gluten-free and nut-free.
Get The Recipe
Eggs stuffed with lemon & capers
A tangy stuffed egg recipe
Get The Recipe
Keto Chicken Recipes with Lemon
Lemon is a great way to flavor chicken.
Keto Seafood Recipes with Lemon
Keto Vegetarian Recipes with Lemon
Keto Soups & Salad Recipes with Lemon
Broccoli, Lemon & Parmesan Soup
Broccoli lemon soup with parmesan make a great comfort food soup. The lemon gives this soup a great flavour to awaken your taste buds.
Get The Recipe
Zucchini Lemon Soup
A low carb zucchini flavoured with lemon is a light and easy soup
Get The Recipe
Warm Cauliflower Salad
A warm cauliflower salad in a lemon, caper & herb dressing
Get The Recipe
Keto Sides Recipes with Lemon
Feta Lemon Coleslaw
Get The Recipe
Roasted Baby Turnips with Lemon & Mustard - Keto & Low Carb Vegetarian Recipes
Baby turnips are roasted in a lemon and Dijon mustard butter sauce for a spring or summer low carb side dish full of flavour.
Get The Recipe
Cauliflower Roasted in Dijon Mustard and Lemon Butter Sauce
A cauliflower side dish packed full of flavour.
Get The Recipe
Keto Lemon Dessert Recipes
Lemon is a great ingredient in low carb sweet recipes. Who doesn't enjoy a slice of lemon cake in all it's varieties? There's also an ice cream and mousse recipe to indulge in too!