Enjoy your leftover turkey with these delicious range of low carb recipes. Once you have brined the turkey, roasted it, devoured it for dinner with tasty vegetables, there are usually some leftovers. Especially if you made some room for dessert!
Turn that leftover turkey into casseroles, soups, salad calzones, curry, enchiladas and many more creative ideas. We have put together 15 keto leftover turkey recipes for you to enjoy your leftover turkey during the holidays.
This post may contain affiliate links. Please read my disclosure policy for more information.
Jump to:
How Long Does Left Over Turkey Last?
Roasted turkey will last in the fridge for up to 4 days. The meat should be stored in the fridge within 2 hours of it being left out. The United States Department of Agriculture says to remember the "two-hour rule" for food safety as "all perishable items should be refrigerated within two hours of coming out of the oven or refrigerator." The reason is that after two hours, perishable food such as turkey and stuffing enter what's known as the Danger Zone, where foodborne bacteria can quickly multiply and cause the food to become unsafe to eat. "If foods have been left out at room temperature for more than two hours, discard items to prevent foodborne illness," says the USDA, per their website.
Can You Freeze Leftover Turkey?
You can freeze your leftover turkey but it's best to do so once you are putting the leftovers away. Slice the meat from the turkey bone and wrap it in freezer paper or foil, then seal in plastic freezer bags. Press any air out of the bags.
Defrost the turkey overnight in the fridge before use.
Can I Use Leftover Chicken?
If you have leftover chicken it can be used to make these keto leftover turkey recipes too! Even rotisserie chicken would work.
Keto Turkey Enchiladas
Using low carb tortillas, enchilada sauce, cream cheese and more cheese, you can turn that dry leftover turkey into a rich and spicy dish with turkey enchiladas. Add onions and bell pepper if you want extra vegetables.
Keto Leftover Turkey Enchiladas
Need ideas for what to do with your left over Thanksgiving turkey? Try these low carb turkey enchiladas.
Get The Recipe
Turkey Quesadillas
With leftover turkey, cranberry sauce, brie and a low carb tortilla you can quickly make these tasty quesadillas. If you don't have brie cheese, try cream cheese or camembert cheese.
Keto Turkey Pot Pie
Leftover roast turkey makes a delicious pot pie with a rich buttery almond flour crust and a creamy sauce. Grab your ingredients and get ready to bake!
Keto Turkey Curry
Making a curry with turkey is another family classic for us. This recipe has a more tropical curry flavor with coconut milk.
Keto Turkey Casseroles
Try a leftover turkey casserole recipe for a filling dish of low carb comfort food. Perfect for when it's cold outside and you need warm, nourishing food.
Keto Turkey Calzones
We use a Fathead dough to make these turkey calzones for a delicious light meal or snack.
Keto Turkey Calzones
Use your left over roasted turkey to make delicious low carb calzones with a Fathead dough pastry.
Get The Recipe
Leftover Turkey Sandwiches
Leftover turkey meat is traditionally used for a turkey sandwich on Boxing Day in our family. To keep this low carb we have used a chaffle and low carb bread.
Turkey Brie Cranberry Chaffle Sandwich
A low carb turkey sandwich with a chaffle
Get The Recipe
Low Carb Thanksgiving Sandwich
Spruce up your Thanksgiving leftovers with the super simple sandwich. It has all the flavors of a Thanksgiving dinner and only takes minutes to make!
Get The Recipe
Keto Turkey Soup
With cold weather during the holidays, a bowl of comforting soup can really hit the spot.
Keto Turkey Salad
Your leftover turkey makes a refreshing salad for when you want something light after the holiday feast but don't want to compromise on taste.
Keto Turkey Chili
See how to make paleo turkey chili without beans, in just 30 minutes.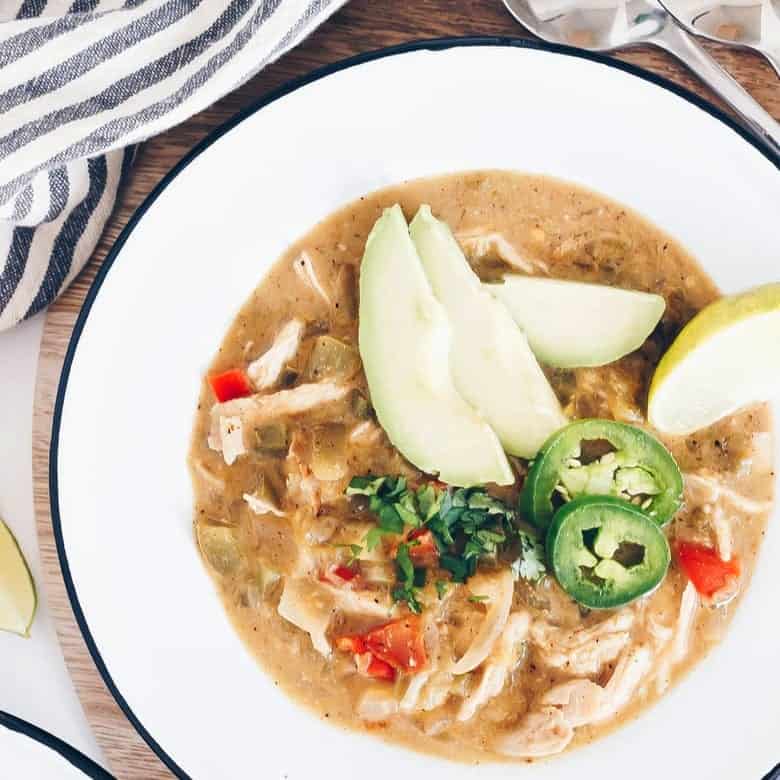 Healthy Paleo White Turkey Chili Recipe - Wicked Spatula
This is the BEST white turkey chili recipe! 30 minutes is all you need to make Paleo turkey chili! The flavor of healthy white turkey chili is amazing too!
Get The Recipe