Welcome to our mouthwatering collection of keto burger buns! Are you following a low-carb, high-fat lifestyle and craving a juicy burger? We've got you covered with a variety of delicious and satisfying recipes that will elevate your burger experience while keeping you in ketosis.
We understand the struggle of finding the perfect bun that aligns with your dietary needs, so we've scoured the culinary landscape to bring you the best keto-friendly options. From cloud-like almond flour buns to savory cauliflower creations, our recipe round-up will revolutionize your burger game without compromising on taste or texture.
Get ready to sink your teeth into these flavorful, low-carb wonders that are sure to become your go-to choice for burger nights. Let's embark on this keto burger bun adventure together and make every bite an absolute delight!
This post may contain affiliate links. Please read my disclosure policy for more information.
Jump to:
Keto Burger Buns
Keto Burger Buns
Light and fluffy low carb burger buns to enjoy a classic hamburger
Get The Recipe
Onion Low Carb Burger Buns
Low carb onion hamburger buns are a great addition to your barbecue or grilled burgers.
Get The Recipe
2 Minute Keto Burger Bun
This is a quick and easy keto burger bun. Grain free, Paleo and low carb too.
Get The Recipe
Everything Keto Burger Buns - Keto & Low Carb Vegetarian Recipes
Easy everything keto burger buns are baked with almond flour, lupin flour and oat fiber for a hearty low carb bun to enjoy as a burger bun.
Get The Recipe
Low Carb Flaxseed & Psyllium Bread Rolls
Coconut Flour Rolls
A low carb bread roll baked with coconut flour & psyllium husk powder makes a great low carb dinner roll.
Get The Recipe
Almond Flour Bread Rolls
Low carb and gluten free bread rolls that look like the real thing
Get The Recipe
Keto Nut Free Bread Rolls - Keto & Low Carb Vegetarian Recipes
Soft keto nut free bread rolls for dinner rolls or split, fill and serve. If you have nut or coconut allergies, this low carb bread roll recipe is for you.
Get The Recipe
Cauliflower Buns
These scrumptious low-carb cauliflower buns use cauliflower rice in place of flour, with a bit of sharp Cheddar cheese and egg as binder to make a grain-free and gluten-free bun for burgers or sandwiches. Our take on cauliflower bread is particularly good with Classic Beef Burgers with all the fixin…
Get The Recipe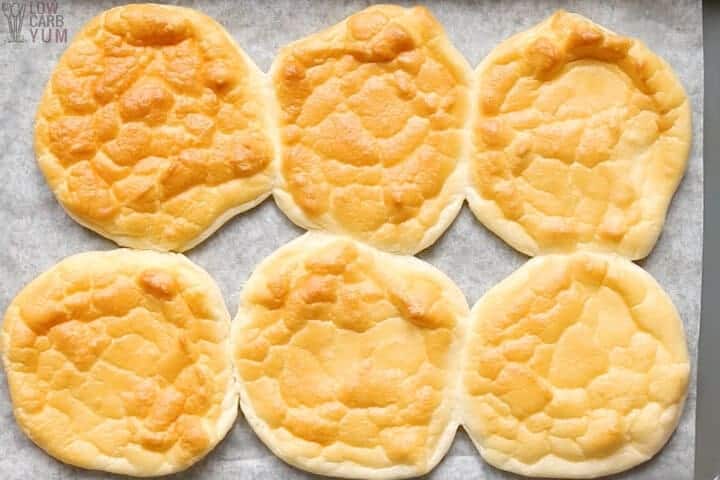 Keto Cloud Bread Recipe (Oopsie Bread Rolls)
For an ultra low-carb replacement for bread, try this easy keto cloud bread recipe! These 4-ingredient oopsie rolls are less than 1g net carb.
Get The Recipe
Vegetable Burger Bun
And for those of you who don't want any low carb flour, try a portobello mushroom for a burger bun.
Portobello Mushroom Burger Bun - Keto & Low Carb Vegetarian Recipes
A portobello mushroom burger bun is used for a low carb alternative to a bread bun. This recipe uses a filling of halloumi cheese.
Get The Recipe